Talks planned on Solway Firth cockle fishery management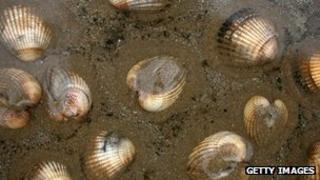 The future management of the Solway cockle fishery is to be discussed at a meeting in Dumfries.
Officials from Marine Scotland, local fishermen, landowners and politicians will take part in the talks on Thursday evening.
The meeting has been organised following concern about illegal cockling in the estuary.
The shellfish beds in the Solway Firth have been closed since September 2011 to allow stocks to recover.
A summit on the issue took place in Dumfries in August, organised by Fisheries Secretary Richard Lochhead.
He said after that meeting that additional enforcement powers would be considered.
Speaking ahead of the latest talks, Labour MP Russell Brown said tackling illegal cockle gangs must be central to any plans to re-open the fishery.
Conservative MSP Alex Fergusson said Marine Scotland had a big responsibility in ensuring the current stock of cockles remained intact.
He said that would require extra security and enforcement to prevent illegal activity.