Scots scallop boat 'attacked by French'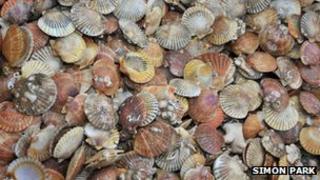 A Scottish shellfish supplier has described how one of his boats was attacked by French fishermen.
Andy Scott, of Dumfries-based Scott Trawlers, said the crew of the scallop boat Vertrouwen had feared for its safety during the incident.
He said it was attacked in the Bay de Seine, where it was permitted to fish.
He said three French fishermen eventually boarded his vessel but the skipper had been able to satisfy them he was legally entitled to fish there.
Mr Scott said he would be looking for British Navy support after the Monday morning incident which reportedly involved a number of British boats.
"About seven vessels came into very close quarters with the Vertrouwen and tried to stop it fishing," he said.
"It tried to continue fishing at which time the French vessels started to attack with catapults, stones and nuts and bolts.
"The crew feared for their safety, they feared that the wheelhouse windows were going to be broken."
He said the number of French boats then increased to about 30 and they tried to throw ropes and nets to snare the propeller on the Vertrouwen.
Mr Scott sent another of his own boats and another Scottish vessel to "lend support" to the vessel.
At that point three French fishermen boarded the Vertrouwen and spoke to the skipper.
"He was able to satisfy them that he was legally entitled to fish there," said Mr Scott.
The Marine Management Organisation said the Vertrouwen was one of a number of UK vessels in the area at the time.
A spokesperson said: "As soon as we were made aware of the situation we contacted the French authorities and encouraged them to intervene.
"They did and are continuing to deal with this matter.
"We are continuing high-level negotiations with our French counterparts to seek assurances that these issues will not recur."