Golden eagle shot near Southern Upland Way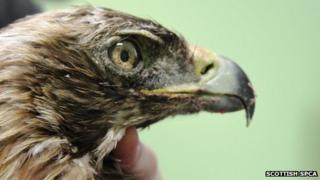 The Scottish SPCA has appealed for information after a golden eagle was found close to death after being shot near the Southern Upland Way.
The discovery was made by a member of the public near the route through Dumfries and Galloway on Saturday.
It is now being treated by vets at the Scottish SPCA's National Wildlife Rescue Centre in Clackmannanshire.
Ch Supt Mike Flynn said the eagle had been caused "tremendous pain and suffering" by the incident.
"It became grounded after being shot, which caused the feathers on its tail and wings to break and meant it was unable to search for food," he said.
"If the eagle hadn't been found on Saturday it is very likely it would have starved to death.
"Golden eagles are extremely rare and it is very concerning that someone would deliberately try to injure or kill such a magnificent creature."
He said that as well as being cruel, injuring a wild bird was also a criminal offence.
He appealed for anyone with information about the shooting to come forward.
"This eagle will require lengthy rehabilitation and expert treatment in our care," he said.
"Although it's very early days yet, it is feeding now and we are hopeful it will make a full recovery and we will be able to release it back into the wild next year."
Environment Minister Paul Wheelhouse described the incident as "completely unacceptable".
"I am extremely concerned and disappointed that this golden eagle, a very rare sight in this part of Scotland, has been shot and critically injured," he said.
"Shooting a protected wild bird is a criminal offence and I would urge anyone with information to contact the Scottish SPCA or Dumfries and Galloway Police.
"Thankfully this golden eagle has survived and is receiving specialist care, and I hope in time it makes a full recovery."
South of Scotland Labour MSP Claudia Beamish said she was appalled anyone could shoot such a "rare and beautiful bird".
"Someone has deliberately sought to shoot down this golden eagle in a shocking act of criminality," she said.
She urged people to contact police with information.
RSPB Scotland director Stuart Housden said it was an "appalling incident".
"Whoever pulled the trigger must have deliberately targeted one of our most iconic birds, with lethal intentions," he said.
"Whoever it was has access to a shotgun, and the confidence to use it in this area.
"Much has been made of an apparent recent decline in the illegal poisoning of Scotland's birds of prey, but this, and other recent criminal incidents, show that efforts to stamp out the illegal persecution of strictly protected wildlife have a considerable way to go."
A joint investigation is ongoing into the incident.
Dumfries and Galloway Constabulary's wildlife crime officer Pc Andrew Wheeler said: "It is beyond belief why someone would want to harm such a rare and beautiful bird in this day and age.
"This investigation will focus on bringing those responsible to justice for this abhorrent crime."