Dumfries and Galloway Council rejected budget cuts may be resurrected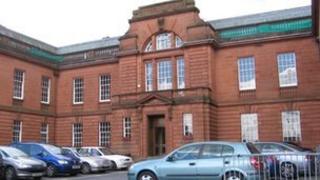 Budget cuts previously rejected by councillors in Dumfries and Galloway could be brought back to the table.
The move comes as the local authority faces having to reduce spending by £27m over the next three years.
The council's finance department is presenting a review paper on past budget options - including £4m worth of cuts which were previously ruled out.
Officials said the proposals were challenging and it was up to members to decide if they were acceptable.
The list of previously rejected savings includes:
The withdrawal of free school meals to primary one pupils
Reductions in the numbers of classrooms assistants
The removal of subsidised garden maintenance for elderly residents
Cuts in street cleaning and potential cuts in arts and museums services, as well as leisure and sport provision.
The report will go before members of the policy and resources committee.
It provides updates on the savings potential of each option should any be resurrected as part of the budget development process.