Dunragit crossing crash driver Andrew Robertson 'improving'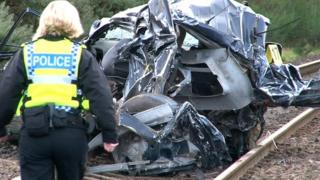 A teenage car driver remains in a serious condition but is said to be "improving" after a level crossing crash in south west Scotland.
A train struck a car at Dunragit village near Stranraer at about 13:45 on Sunday.
Police have now named the car driver as farm worker Andrew Robertson, 18, from Palnure near Newton Stewart.
He was flown to the Southern General Hospital in Glasgow for treatment to serious head injuries.
None of the passengers on the train - which operates between Glasgow, Ayr and Stranraer - was seriously hurt.
Three people, including the train driver, were treated for minor injuries at Galloway Community Hospital in Stranraer and later discharged.
The other train passengers were taken to a local leisure centre to be checked over by paramedics.
The railway line between Ayr and Stranraer was closed while investigations were carried out into the collision.
The debris from the crash has now been cleared and the line is fully open.
The investigation into the incident is continuing and police are still keen to hear from anyone who may be able to help "piece together the circumstances surrounding the accident".