Hawick lands first Parliament Day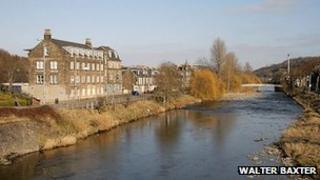 A Borders town will host the Scottish Parliament next month on its first Parliament Day.
Politicians and staff will visit Hawick and hold a formal committee meeting, visit schools and meet local groups.
Parliament Day, a new initiative, is on 5 November at the town's Tower Mill.
Presiding Officer Tricia Marwick MSP said the parliament represented "all the people of Scotland" and its work affected everyone.
"I hope the people of Hawick will enjoy this opportunity to find out more about what we do at Holyrood and experience how easy it can be to get involved," she said.
The finance committee will meet in Hawick where they will examine the spending plans of the Scottish government.
Local organisations such as businesses and third-sector groups will attend informal workshops to have their say on the government's spending plans.
School pupils will have the opportunity to watch the committee meeting and ask MSPs questions.
Councillor Graham Garvie, convener of Scottish Borders Council, said: "It's an honour to host the Scottish Parliament in Hawick.
"I'm delighted that the Borders has been chosen as the first area in Scotland to hold such an historic event."