Selkirk Forest Pitch arts project 'used as drinks den'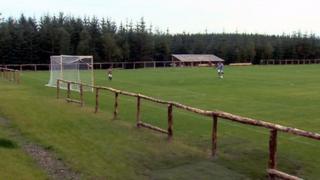 A £460,000 arts project which saw a football pitch built in a forest is being used for underage drinking sessions, it has been claimed.
The Forest Pitch near Selkirk staged two matches in August as part of 2012 Olympic celebrations.
Photographs of teenagers drinking alcohol at the site have now appeared on social networking websites.
Artist Craig Coulthard said if there were any such problems he would not hesitate to contact the police.
The Forest Pitch project saw a pitch and wooden pavilion constructed in the Borders woodland.
A first attempt to play two games between teams of "new Scots" - men and women who had come to Scotland for a variety of reasons - had to be postponed due to a waterlogged pitch.
The matches were played at the end of August with all the teams wearing strips designed by Scottish schoolchildren.
The intention was to let the land return to its natural state after the games had been played.
However, pictures have now appeared of young people consuming alcohol in the pavilion.
One parent said: "I found out about my son going to the pitch to drink and grounded him straight away.
"It is bad enough them drinking but what would happen if they became ill out there in the middle of nowhere?
"The hut should be pulled down immediately."
Environment Minister Paul Wheelhouse has also been critical of how £460,000 of lottery money was spent on the project.
He said the money might have been better spent upgrading the facilities of local football team Selkirk FC.
"I very much regret that it may now be a haunt for folk to indulge in underage drinking and therefore be having a negative impact," he said.
Mr Coulthard has always defended the lottery-funded project as being worth the money spent on it.
He added: "I will be visiting the site in the next few days to check the situation.
"If there are problems with underage drinking or with litter we will not hesitate to contact the police."