Dumfries Crichton Campus research centre opens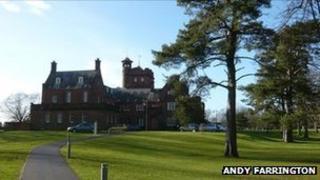 A pioneering centre for research and postgraduate study is opening at the University of Glasgow's Crichton Campus in Dumfries.
The Solway Centre for Environment and Culture is said to be unique in the UK.
Among its initial projects are studying the impact of a spate of wildfires across the UK in 2011 and a bid to get more public involvement in archaeology.
Centre director Valentina Bold said they were "very excited" about collaboration opportunities.
"It seems fitting that the Solway Centre is opened in the part of the world where the word 'environment' was created by Carlyle in 1826 and which has sustained creativity from the 'ploughman poet' Burns to modern land artists Jencks and Goldsworthy," she said.
Eight University researchers are its core team, based at the Dumfries Campus, working with an additional 17 academics from the University of Glasgow and beyond.
They will initially focus on three research areas:
Rural landscape management
Sustainable rural tourism
Landscape, place and memory.
Prof David Clark, Head of the School of Interdisciplinary Studies at the Dumfries Campus, said: "This is a great boost to our research ambitions.
"The Solway Centre is already undertaking innovative studies that shed light on cultural and environmental issues in our region.
"It will present many opportunities for research and further study in the coming years and a real focus for working across disciplines."