Star of Caledonia Scotland-England landmark progresses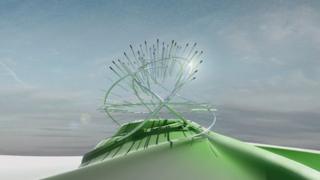 The Star of Caledonia public artwork to mark the Scotland-England border at Gretna has cleared a funding hurdle.
Creative Scotland awarded the project development funding in order to work up a bid for £1m support.
The total cost of the scheme, designed by Cecil Balmond, has been estimated at more than £4m.
The head of the Gretna Landmark Trust, Alasdair Houston, said it was a "bold project" which could have social and economic benefits for the area.
He said the "hard work" would now begin in order to try to see the structure built in time for the 2014 Commonwealth Games in Scotland.
As well as internationally renowned designer Mr Balmond, the project also involves renowned land artist Charles Jencks who lives in Dumfries and Galloway.