Dumfries 'super school' support welcomed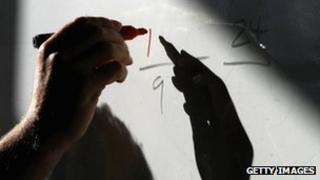 Dumfries and Galloway Council has welcomed Scottish government support for its plans for a "super school" for senior secondary pupils in Dumfries.
The scheme is one of 30 on a list of new projects across the country.
A council statement said it welcomed the "offer of funding" for the school for S4 to S6 pupils in the town.
Consultation is under way on the plan which would see pupils attend one of the four Dumfries secondaries up to S3 before moving to the new school.
Councillor Gail Macgregor, who chairs the authority's education committee, said the backing for the "learning town" project was welcome.
She said the proposed school could offer "far more choice than a traditional secondary school".
It would be designed to work closely with the University of Glasgow, University of the West of Scotland and Dumfries and Galloway College on the Crichton Campus.
She said: "We are very encouraged to have received confirmation of this offer of funding, which will allow us to take another step with this exciting and innovative project.
"Our council wants the best possible educational facilities for the children and young people of Dumfries and Galloway and investment in our school estate remains a key priority."
Consultation on the plans is currently ongoing with teachers and the Roman Catholic church having already expressed reservations.
Local Labour councillors claimed the announcement showed the consultation was "already a done deal".
Education spokesman Jeff Leaver said the council appeared to have already made up its mind that a new senior school on the Crichton campus was the best option.
"It is clear that the council has negotiated funding from the government, based only on the option of building a new school to force councillors down that route," he said.
"That means that if councillors went down the option of staying with the current four senior schools, we wouldn't get funding.
"This strikes me as blackmail to force only one outcome, which is disappointing given that the consultation process hasn't really started yet."
However, Education Secretary Mike Russell said the offer of support did not remove the need for consultation.
"These are big changes that the council wants to make," he said.
"But I am, as I think people locally know, a long-term supporter of the Crichton educational project.
"Adding a 15+ school, a new type of school for Scotland, within this seems to me an exciting possibility."