Dumfries hospital bid budget warning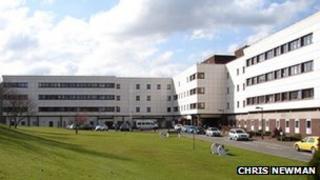 A warning has been given that funding for a new district general hospital in Dumfries and Galloway will be tight.
It came from Public Health Minister Michael Matheson after his annual performance review of the region's health services.
Mr Matheson welcomed the board's naming last week of a preferred site at Garroch Loaning on the western outskirts of Dumfries.
However, he said that was only the start of a long process.
"What is important now is for them to put together the business case," he said.
"We will then consider that - we will have to look at it within the overall capital budget that we have which has been cut dramatically by some 30% by the UK government."
He said that only gave the Scottish government "limited manoeuvre" in its spending.
A business case is expected to be submitted for the scheme - which is estimated to cost about £200m - by spring next year.
Mr Matheson said it would be given "due consideration".
"If we then believe that the building plan actually stacks up we will then look at where there is capital allocation that we can provide for it," he said.
'Real challenge'
Health board chief executive Jeff Ace said planning the new hospital would be a massive task.
He said he was determined the scale of the project would not be allowed to detract from the day-to-day job of delivering the best possible health services to local patients.
"It is a real challenge for us, we are a small board with a small number of senior managers," he said.
"We have established a dedicated project team just to take this project forward.
"I will be constantly monitoring to make sure that we are maintaining those high standards while delivering this once-in-a-generation change."