New Dumfries £200m hospital site selected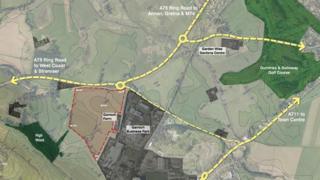 A site on the town bypass has been selected as the preferred location for a new £200m Dumfries general hospital.
NHS Dumfries and Galloway has chosen land at the Garroch roundabout on the A75 as the best option.
A number of other potential locations across the town - including the current site - have been ruled out.
The Scottish government has earmarked up to £230m to finance the replacement for the town's infirmary, which was built on the Bankend Road in the 1970s.
Initially, five potential sites were identified for the project.
The current location and two others - in Locharbriggs and near Tinwald Downs Road - were the first to be ruled out.
Now another site at the Lockerbie roundabout on the A75 has been dropped, leaving the Garroch roundabout as the preferred option.
A business case is currently being worked up for the project.
Julie White, chief operating officer with NHS Dumfries and Galloway, said: "We believe that this site will provide much better access to our acute hospital for patients across Dumfries and Galloway.
"Having studied the responses and considered all of the comments we received from the consultation, we know that accessibility was a key factor when people indicated their preferred site."
She said they were extremely grateful to landowners at the Garroch site, William and Margaret Muir, for their co-operation during negotiations.
'Greater benefit'
Galloway and West Dumfries Conservative MSP Alex Fergusson said: "I am absolutely delighted that this site has been chosen as the preferred site for the new hospital.
"It will maximise the ease of access for my constituents in the west of the region.
"While any of the final sites would have been an improvement on the current location of DGRI, the Garroch site is the one that will be of greater benefit to my constituents."
SNP MSP for the South of Scotland Dr Aileen McLeod was also pleased with the decision.
"I note that 55% of respondents to the NHS consultation favoured that site so I am pleased to see NHS Dumfries and Galloway is listening to public opinion," she said.
"I also think that the new location will be much more easily accessible since it is close to the A75, rather than requiring people coming from all directions to travel through Dumfries, as is currently the case."