Old Melrose monastery site celebrated by school pupils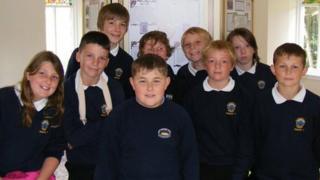 It was one of the most important Christian sites in Scotland.
Now school pupils from Newtown St Boswells and St Boswells have helped create interpretation panels at Old Melrose, near Newtown.
In the 7th Century AD Old Melrose, then in the ancient kingdom of Northumbria, was the site of a monastery.
It was to that location that a young Cuthbert arrived on horseback, carrying a sword.
He dismounted, discarded his sword, and began a full-time religious commitment that saw him, eventually, become Bishop of Lindisfarne.
His remains are now in Durham Cathedral.
The abbot at Old Melrose at the time Cuthbert arrived was Boisil - the origin of the modern name of St Boswells.
The pupils carried out widespread research on the Old Melrose site and the St Cuthbert story.
They designed interpretation panels which have been located in a recently-refurbished summerhouse at Old Melrose.
The displays will be open there over the next few weeks before the panels are relocated to the steading at Old Melrose, where visitors will be able to see them over the winter.
Come spring, they'll again be back in the summerhouse location.
The Newtown and St Boswells pupils thoroughly enjoyed the research work they had to undertake and they're delighted too with the refurbished summerhouse, which will house the fruits of their labours.
When they first visited the location earlier this year it was in a state of dereliction and decay, and partly covered in plastic sheeting.
Now it looks as good as new.