Hawick common good land turbine project takes shape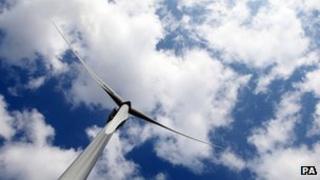 Detailed plans to put wind turbines on common good land on the outskirts of Hawick have been unveiled by a local environmental group.
A consultants' report, commissioned by A Greener Hawick, was this week handed to common good trustees.
It says three 80m-high turbines could be placed on Hawick Mair and generate £6m for the community over 20 years.
Supporters say the site is well away from the route of the town's historic common riding.
However, Andy Maybury of A Greener Hawick said public opinion was the most important element of the proposal.
He said that if the people of Hawick did not wish to see the plans proceed then they would not.
The group believes that generating electricity for the town could have a positive impact as well as raising revenue.