Italians in Scotland: What have they ever done for us?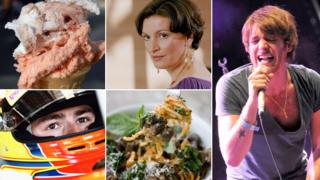 Waves of Italian immigrants have been arriving in Scotland since the late 19th Century.
Unification of the country in 1861, intense poverty and two World Wars have seen millions of Italians leave their native land.
Tens of thousands of their descendants are now dotted across Scotland and have influenced almost every walk of Scottish life.
The University of Edinburgh - through its Italo-Scottish Research Centre - hopes to create an archive for the first time for their stories.
FOOD
Debate rages over who first had the idea to bring fish and chips together in the UK.
Nobody, however, could dispute the Italian influence after they had spotted the business opportunities to be had north of the border by selling "pesce e patate".
Stuart Atkinson, Scottish executive councillor with the National Fish Friers Federation, said their role was significant.
"It could be fairly argued that the Italian community popularised the 'fish supper' in Scotland," he said.
"Large numbers of Italian immigrants, mainly from Northern Italy entered the Scottish fish and chip trade from around 1890 onwards, by 1914 they dominated the trade and opened shops throughout Scotland.
"To this day most Scottish towns still have an Italian chippy, but their presence is strongest in the central belt, where it all began over 120 years ago."
Ice cream was another area many Italians ventured into.
Former Ice Cream Alliance president Philip Mancini, whose family has operated a business in Ayr for almost 100 years, said it had become part of the fabric of society.
"It is part of Scottish culture, I think, in every wee town and village there is an Italian somewhere," he said.
"It has been an institution over the years.
"It was a treat in days gone by, going to the Italian for an ice cream."
From those foundations many business have gone into more traditional Italian cuisine with hundreds of restaurants dotted up and down the country.
MUSIC
Classical violinist Nicola Benedetti grew up in West Kilbride in Ayrshire but is proud of her Italian roots and supports a scholarship for postgraduate Italian studies in Scotland.
Many of her musical releases also have a flavour of the country of her ancestors.
Another artist proud of his heritage is Paisley boy Paolo Nutini who was awarded a St Christopher medal by the town of Barga in Tuscany for his work in raising its profile abroad.
His song, Simple Things, in honour of his father, sums up the experience of many Scottish Italians.
"My dad lives a pretty simple life," he said when it was released.
"Since he was 16, he's worked in a chip shop, all day, everyday, 41 years in front of the same mirror, the same fryer."
Glaswegian Sharleen Spiteri, the frontwoman of pop band Texas, also has Italian blood.
"On my dad's side, every two weeks or so we'd go to my Nonna's, starting at lunchtime, and it would be big tables," she told The Guardian in 2010.
"You'd sit and eat lots of food and start conversations and arguments and fights."
Carrbridge's Rachel Sermanni is another singer of Italian descent starting to get a lot of recognition.
Preceding them all, however, was Lena Zavaroni.
Born on the Isle of Bute, she was just nine when she shot to fame in the 1970s after winning the TV talent show Opportunity Knocks for five weeks in a row.
She died after contracting an infection following neurosurgery in 1999 having had the eating disorder anorexia nervosa for many years.
SPORT
Many sports in Scotland have enjoyed an Italian influence.
Not surprisingly, perhaps, a number of them were talented footballers and the likes of Lou Macari from Largs, Edinburgh's Peter Marinello and Domenic Matteo from Dumfries have played at the highest level.
Both Macari and Matteo represented Scotland but one pioneer of the game travelled in the opposite direction.
Johnny Moscardini was born in Falkirk to Italian parents and played for Italy's famous Azzurri in the 1920s.
However, it was not the big money game it is now and he eventually faced a stark choice of continuing in sport or coming back to Scotland and running a business.
He chose the latter and returned to Campbeltown and then to Prestwick - where he ran the Lake Cafe until his retirement in the 1960s.
Moscardini passed away in 1985 but the football stadium in Barga still bears his name.
In rugby, Lockerbie's Nick De Luca and Simon Danielli from Edinburgh have represented Scotland.
And motorsport, too, sees Bathgate's Dario Franchitti and West Lothian driver Paul Di Resta fly the flag for Scottish Italians.
Even national hunt horse racing saw the jockey skills and, later, the training ability of Carrutherstown handler Len Lungo.
ENTERTAINMENT
For a nation with the theatrical traditions of Italy, it is perhaps not surprising the Italian diaspora has had a big impact on both television and cinema.
One of the most prominent, Armando Iannucci, told the BBC a few years ago about his background.
His father, from Naples, died when his son was 17. His mother, also of Italian stock, was born in Glasgow where she ran a hairdressing salon.
"I don't know what influence my ancestry has had on me, but I do know that I feel neither fully Scottish nor fully Italian," he admitted.
"If I'm at a ceilidh, I'm thinking 'what's all this about'? The same goes for an Italian wedding."
He has worked with fellow Glasgow-Italian Peter Capaldi on a number of occasions, probably most famously on the political satire The Thick of It.
They are far from the only Scots Italians to have featured on TV and film.
Paisley-born Tom Conti, Daniela Nardini from Largs, Ronni Ancona of Troon and Edinburgh's Ken Stott are among those to have enjoyed highly successful careers.
ARTS
"A true international icon" and an "artistic colossus".
That was how Scotland's culture minister Patricia Ferguson described Eduardo Paolozzi on his death in 2005.
Born to Italian parents in Leith, the artist and sculptor was regarded as the founder of the British pop art movement.
For his part, Aberdonian Alberto Morrocco was recognised as "the finest portrait painter of his time in Scotland" in one obituary when he died in 1998.
"As fitted the Scottish son of Italian immigrants, he combined the best of Scottish directness with Italian warmth, courtesy and generosity of spirit," said The Independent.
Photographer Oscar Marzaroli came to Scotland as a child and captured the spirit of Glasgow in his collection Shades of Grey.
While artist Emilio Coia, impresario Richard Demarco, writer Alexander Trocchi and painter Jack Vettriano are others to have made their artistic mark.
All of which means there should be plenty of material to fill the archive of the Italo-Scottish Research Centre as it start to take shape in the years to come.