Kelso ram sales get under way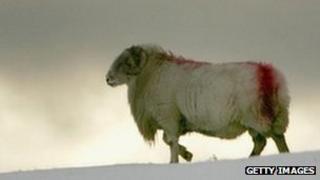 More than 5,000 rams are being auctioned as buyers and sellers from across the UK converge on the Scottish Borders.
The 2012 Kelso Ram Sales are being staged at Springwood Park.
The event can trace its history back to 1836 and has been held annually since then.
Ron Wilson, of the Border Union Agricultural Society (BUAS), said it was certainly the biggest one-day ram sale in Europe and probably the world.
The first ram sale was held in 1836 when the BUAS acted as arbiters between private sellers.
The first sale by auction two years later saw 120 animals purchased.
By 1993, the reputation of the event had grown to such an extent that the £2m barrier was broken when 6,000 tups changed hands.
Numbers have evened out but the sales remain one of the most famous in the world.
Last year the top price fetched by a ram was £15,000.
The average amount paid per animal was a little under £650.