Tour of Britain: Jedburgh to Dumfries stage hits road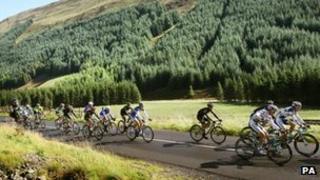 The cycling stars of the Tour of Britain, including Bradley Wiggins and Mark Cavendish, have hit the roads of southern Scotland.
The third stage ran from Jedburgh in the Scottish Borders to Dumfries.
Hundreds of schoolchildren were among the crowds lining the route and gathering at the finish line on the Whitesands.
Mark Cavendish repeated his achievement of last year to win the sprint to the delight of spectators.
The third leg of the week-long event was the only time the field of about 100 riders passed through Scotland.
The race got under way in Ipswich at the weekend and concludes in Guildford on Sunday.
For the Scottish stage, proceedings started in Jedburgh on Tuesday morning.
Children from Jedburgh, Denholm, Hawick and Newcastleton schools were lining the start of the route, wearing special "Wiggo" sideburns to mark the occasion.
A special preview evening also took place in Jedburgh Town Hall.
The first sprint took place in Hawick, before heading up over two first category climbs and the second category Grey Mare's Tail.
Riders then swept into Moffat, down through Johnstonebridge, followed by two further intermediate sprints in Lochmaben and Dumfries.
The race then went out on a loop through New Abbey and Cargenbridge before coming back to Dumfries for a finish dominated by Team Sky.
Most of the schools in the town allowed some of their pupils out to witness the occasion.