Hugh Dowding tribute in Moffat reaches 40th anniversary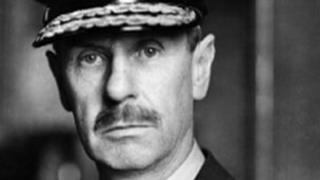 A service in memory of the man who masterminded the RAF's victory in the Battle of Britain has reached its 40th anniversary.
Air Chief Marshal Hugh Dowding was born in Moffat and the town has honoured him every year since 1972.
The highlight of the day was a Spitfire flypast over the town's Station Park.
The original event was started by Irene Park MBE, who died earlier this year. Dr Hamish McLeod organised this year's event.
Dowding, who was born in the Dumfriesshire town in 1882, was the head of Fighter Command in the late 1930s.
He had been due to retire in June 1939 but stayed on because of the tense international situation.
His strategic and tactical skill has been credited with allowing the outnumbered British forces to ultimately thwart the German air raids during the 16-week period in 1940, which became known as the Battle of Britain.
Historian AJP Taylor described it as the "decisive battle of the war" and said it was won by Dowding.
He believed it was a victory which was as "glorious in our history as the Battle of Trafalgar".
Dowding died in Kent in 1970.
The annual ceremony in southern Scotland to honour his efforts started two years after his death.