Scotland-England border drink-drive pledge by police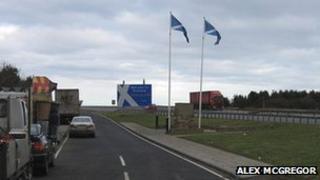 Police in the Borders have promised to prosecute motorists crossing the border within English drink-drive limits but exceeding those proposed for Scotland.
The Scottish government wants to reduce the limit to 50 milligrams of alcohol per 100 millilitres of blood from the current UK figure of 80 milligrams.
It could mean someone driving legally when leaving Berwick would be breaking the law a few miles further north.
Police said people had to know the laws of the country they were driving in.
A consultation on plans to reduce the limit in Scotland was launched this week.
Lothian and Borders Police Chief Constable David Strang said he supported the bid and would be happy for his officers to enforce it.
"Far too many people are injured or killed on our roads by drink-drivers," he said.
"It is a serious problem in Scotland and I am pleased that the government has signalled its intention to reduce that.
"If people drive exceeding the limit that is in Scotland then they will be dealt with by Scottish police."
He said the onus was on drivers getting behind the wheel to ensure they were fit to drive in any country they might travel through.
"That is common across Europe, you need to familiarise yourself with the rules, the speed limits and the drink-drive level in whatever country you are driving," he said.
"The important thing will be that people who live south of the border but are driving in Scotland are aware of the rules and laws here in Scotland.
"My advice is always that if you are going to be driving then don't drink at all."