Winnipeg's story seen in Red River settlement letters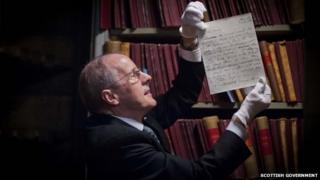 Rare letters concerning a Scottish settlement in western Canada have been unveiled on its bicentenary.
The Red River Selkirk settlement was founded during the Highland Clearances and became the city of Winnipeg.
The historic papers were discovered by archivists in the National Records of Scotland in the Melville and Dalhousie collections acquired for the nation.
The documents were officially unveiled by Culture Secretary Fiona Hyslop at New Register House in Edinburgh.
The Red River settlement was the idea of Thomas Douglas, 5th Earl of Selkirk, in a bid to assist Highland farming families.
In 1811 he purchased a large tract of land in what is now Winnipeg with the aim of seeing people from Scotland settle there.
The formal ceremony of taking possession of the land took place on 4 September 1812.
Many of the families who moved there were those of tenant farmers from the Kildonan valley who were being displaced by their landlord.
One of the letters discovered by archivists was from Lord Melville, First Lord of the Admiralty.
Dated 22 June 1812 - just a few days after the United States Congress declared war on Britain - it turns down a request to protect settlers from the "press gang" and for a naval escort for their ship.
Despite Lord Melville's refusal to help the settlers, they made it safely across the Atlantic.
The other document is an account of the notorious Battle of Seven Oaks in 1816 by Angus Shaw of the North West Company (NWC) - a rival fur trading company to the Hudson's Bay Company in which Lord Selkirk was a majority shareholder.
Lord Selkirk was criticised for his conduct following the violent confrontation and was not able fully to vindicate himself within his own lifetime.
Mounted copies of the letters will now be presented to the Lieutenant Governor of Manitoba.
'Fascinating details'
Ms Hyslop said: "For generations Scots have ventured to Canada's shores, playing an enormous part in building and making Canada what it is today.
"The settlement at Red River shaped the history of both our nations and its bicentenary is a significant milestone in our shared culture and heritage.
"These letters bring to light the challenges and difficulties of that time and the ambition and determination of the settlers who left their homeland to begin a new life."
George MacKenzie, Keeper of the Records of Scotland, said the letters confirmed the importance of the Dalhousie and Melville archives.
"The account of events at Red River in 1816, written by one of Selkirk's enemies, contains fascinating details and shows how records can connect us directly to the controversies and emotions of the past," he said.
"It is also remarkable because many of those involved in this story of Canada's modern development were Scots."