Dumfries train-to-trail mountain bike link considered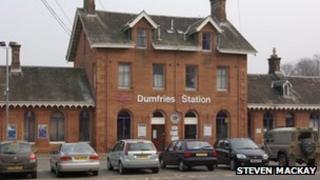 A direct cycle path from a rail station to one of Scotland's top mountain bike sites is being considered.
It would provide riders arriving in Dumfries by train with a safe, off-road route to the 7Stanes at Mabie Forest.
Dumfries and Galloway Council has secured more than £50,000 from Sustrans to carry out a feasibility study into the project.
The authority said that if the scheme could progress it would be a first for Scotland.
The path would remove the need for visitors to use a car to access the internationally-renowned mountain biking facilities.
A further funding package would need to be sought for the construction phase of the scheme.
It is one of five projects in Dumfries and Galloway which have secured match funding.
Links between Windsor Road and Ewart Drive in Newton Stewart, New Abbey Road to the Kirkpatrick Macmillan Bridge in Dumfries and Craigs Road to Georgetown in Dumfries have also gained support.
A grant will also help construct a cycle route to the Crichton grounds in Dumfries.
Councillors are being asked to accept all five offers of grant from Sustrans.