£460,000 Forest Pitch hosts its two matches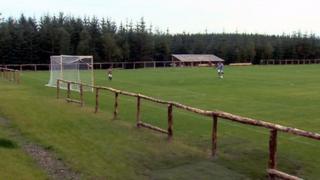 A specially-created £460,000 football pitch created in the middle of a woodland in the Scottish borders has been used for two games.
The Forest Pitch, near Selkirk, was built by Edinburgh-based artist Craig Coulthard as part of artistic celebrations of the 2012 Olympics.
After one day of football, it is to be allowed to return to its natural state.
Mr Coulthard said: "Its legacy is more of a poetic legacy than a practical legacy."
Four teams took to the pitch on Saturday - two men's teams and two women's teams, kitted out in strips designed by Scottish schoolchildren.
The teams of "new Scots" - people who have come to the country for a variety of reasons - were due to have been played in July, before the Olympics, but flooding saw the games postponed.
Internet feed
Up to 1,000 spectators could watch the games and they were transmitted live via the internet.
Once the games were played, the land - owned by the Duke of Buccleuch - is to be left to return to its natural state.
Mr Coulthard said: "I've created a full-sized football pitch in the middle of a spruce forest.
"The reason I did was I had very good memories of playing football in a forest myself.
"I wanted to create games between football players who are diverse and come from all over the world to live in Scotland and create a diverse football team within a monoculture of trees."
The project, which has taken two years to build, has been controversial but Mr Coulthard insisted it was a work of art and it was worth the money.
He said: "I have done something which has not been done before. I have done something new and celebratory and hopefully makes people ask questions about their environment and about society.
"I would definitely say it is worth the £460,000. It is going to be a great day."
He added: "In the autumn of this year we will be replanting trees along the lines of the pitch that over the decades will grow into this big sculpture of a football pitch.
"And they are native trees so there is a nice combination of the non-native spruce and the native trees on the pitch."