Racing pigeon losses baffle fanciers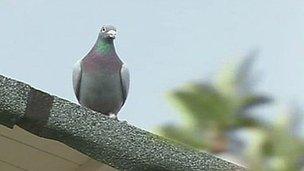 Hundreds of racing pigeons from clubs throughout Scotland vanished at the weekend in mysterious circumstances.
Some fanciers are even considering stopping flying the birds until they establish why so many failed to return.
Weather patterns and birds of prey scaring the pigeons off track have been blamed in the past, but experts have been baffled by the latest incident.
The Scottish Borders was worst hit with only 13 of 232 birds sent from Galashiels to Thirsk making it back.
Ian Noble, president of the Scottish Homing Union, said: "Through in Ayrshire we lost 40 per cent of our birds at the weekend, Glasgow was similar and we're getting reports of big losses elsewhere, although it does seem that the Borders is the worst affected.
"The weather at the weekend was fine and although birds of prey will kill a few and scare many others, that can't be the single reason either.
"We've had problems before with birds going missing, but this is by far the worst I've come across."
Homing pigeons can travel from up to 400 miles away in a single day - using magnetic fields as well as sight for navigation.
Scientists believe solar winds can distort magnetic fields during certain weather systems.
Racing pigeons cost from £20 to £1,000 a time and fanciers from all over the country are counting the cost.
Every member of the Peebles Homing Society in the Borders has lost at least half of their racing stock over the past two weekends.
Alex Currie from Innerleithen clocked in 21 of his 40 pigeons at the weekend - and he admitted he was one of the lucky ones.
He said: "Many of the Peebles members have lost almost all of their birds.
"I think I've been lucky that only half of mine have gone although that's still 40 birds in two weekends.
"We're only in the third week of the season and many of our members are thinking twice about sending any more birds out.
"There was a bit of wind on Saturday that may have carried a few birds beyond the Borders but that can't be the reason that so many are going missing just now.
One Walkerburn enthusiast has already lost 60 birds since the start of August.
Many other clubs around the south of Scotland, including Jedburgh, Hawick and Dumfries, have seen similar scenarios.
Austin Lindores, secretary of the Galashiels Homing Society, said he could not recall as many birds ever going missing.
He said: "We have had crashes before where we've lost a lot of birds - but nothing on this scale.
"I lost seven this weekend and 11 the weekend before.
"Many of our members have lost even more.
"Nobody can put their finger on what is happening."
Related Internet Links
The BBC is not responsible for the content of external sites.