Dumfries DG One facility closures pass 200-day mark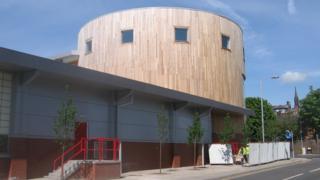 A flagship leisure centre in south west Scotland has had to shut one of its main facilities for repair on more than 200 days since it first opened in 2008.
It translates to nearly one day a week without full services available at the DG One site in Dumfries.
A Freedom of Information request has revealed the lengthy list of closures at the complex.
Its training pool has currently been shut since 15 May with no date set for reopening.
Previous closures have affected the same facility as well as the sports hall, main swimming pool and leisure swimming area.
The multi-million pound Dumfries and Galloway Council-run centre opened in May 2008 - on budget but several months behind schedule.
However, the FoI request to the local authority shows repeated problems since that date.
A council spokesman said there had been "ongoing technical issues, particularly in relation to pool tiling".
He said independent experts had now been hired to try to get to the bottom of the issue.
Once their investigations have concluded they will provide the authority with a report on "all elements of the building that they consider need to be addressed".
The council said once it had a full list of the remedial works needed it would hold talks with the original contractor Kier Northern.
Discussions are already under way with the company about ways of tackling the current closure of the training pool.
The spokesman stressed routine maintenance and repairs were "normal for such a facility" and could require parts of the centre to be closed.
Cost of closures
"Such closures do cause inconvenience to our customers and we apologise for this," he said.
"It is necessary, however, for such maintenance to be carried out in order to ensure the ongoing operation of the facility and the safety of DG One customers and staff."
The council would not comment on how much the closures had cost, saying the issue was currently being considered "in terms of its contractual agreements".
Kier Northern, which constructed the building, said it had tried to address any problems with the centre as quickly as possible.
A statement from the company said: "We have always responded swiftly to any problems notified to us, and rectified all items that were our responsibility at our cost and within timescales agreed with the council.
"We will continue to work with the council to address and resolve any issues that are the responsibility of Kier."