Pregnancy clinical negligence case payouts top £70m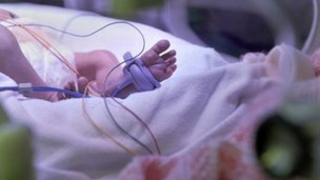 More than £70m has been paid out in the past three years in clinical negligence cases relating to stillbirths and babies born with disabilities.
A Freedom of Information request showed NHS Health Scotland closed 30 cases between January 2009 and June 2011.
Conservative health spokesman Jackson Carlaw claimed such costs would affect front line services.
A Scottish government spokeswoman said it was vital lessons were learned from all negligence claims.
The figures showed that the cases cost nearly £70.5m in damages and a further £3m in legal costs.
A further 44 were closed with no compensation paid and 96 were still open at the end of June last year.
All of the cases related to stillbirths or major physical or mental defects arising during pregnancy or the period around childbirth due to the negligence of medical staff.
Mr Carlaw said: "The problem we have is compensation seems to increase without direct accountability; no one is ever disciplined for negligence.
"This easy rush to compensation will, in the medium term, lead to higher insurance health premiums which NHS health boards will only be able to meet at the expense of front line services."
He said compensation had to be paid in response to a "genuine incident".
'World-leading programme'
"However, to reduce the need for claims those responsible should be held to account, lessons learned and procedures changed to prevent repeat incidents," he said.
"Compensation should not become a carpet under which inconvenient truths can be swept."
A Scottish government spokeswoman said: "We are committed to making sure that all patients receive high-quality care from our NHS and that is why we introduced our world-leading national patient safety programme to improve the safety and quality of care for patients in Scotland.
"We are also developing a specific patient safety programme for maternity care and have a refreshed framework to ensure that maternity care is individualised to the needs of the woman and her baby.
"It is vital that when clinical negligence claims do arise, NHS boards learn from these cases and put steps in place to ensure that there is no repeat in future."