Moniaive peregrine falcon chicks stolen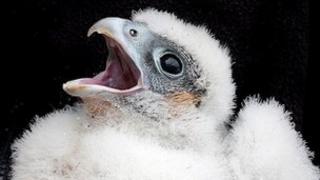 Police have launched an investigation after peregrine falcon chicks were reported stolen from a site in southern Scotland.
The incident happened some time between 25 May and 5 June from a nest in the Moniaive area of Dumfries and Galloway.
A police spokesman appealed for anyone with information about the incident to contact them immediately.
He described it as an "abhorrent offence" and said the force remained committed to fighting wildlife crime.
Head of Investigations for the RSPB in Scotland, Ian Brown, said the nest was being monitored by the Dumfries and Galloway Raptor Study group - licensed by Scottish Natural Heritage - at the time of the theft.
'Disappeared completely'
"This nest was doing quite well with a number of chicks being fed quite happily by the parents," Mr Brown said.
"But on the latest check all the chicks had disappeared completely.
"It is difficult to establish what exactly has happened."
Mr Brown said some sites were targeted by egg collectors for falconry purposes, while birds or chicks had been killed in nests at other sites.
"In this particular case it certainly appears somebody has accessed the nest and removed the chicks," he added.