Chapelcross nuclear plant defuelling reaches milestone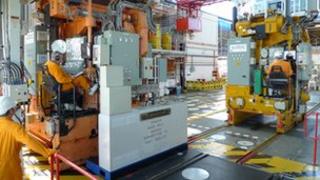 The multi-million pound decommissioning of the Chapelcross nuclear plant has reached another significant milestone.
Radioactive fuel elements have now been completely removed from two of the four reactors.
The decommissioning of the plant near Annan began with the shutdown of the reactors in 2004.
Three years later the massive cooling towers, which dominated the local landscape, were demolished by controlled explosion.
In 2009, the first consignment of uranium fuel roads was sent to Sellafield in Cumbria for reprocessing.
Since then almost 24,000 radioactive elements - out of a total of 38,000 - have been removed from the site.
The defuelling of two of the four reactors was officially completed this week.
The overall defuelling programme had originally been scheduled to be completed by the end of last year, but is now expected to finish in July 2013.
The site operators, Magnox, said that once the process was over 99% of radioactive material would have been removed from the Chapelcross site, which was built in 1959.