Lockerbie koi carp 'theft' blamed on otter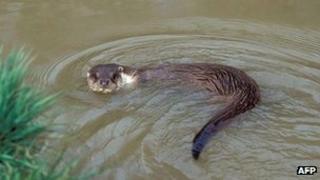 Police have withdrawn an appeal for information over an ornamental fish theft from a pond - after discovering an otter was probably to blame.
Dumfries and Galloway Constabulary was investigating the incident in the village of Heck near Lockerbie some time between 26 March and 15 April.
A total of 40 koi carp with an estimated value of £2,000 were missing.
They were reported stolen but inquiries have shown they were "taken by an animal, probably an otter".
"As such, no crime has been committed," said a police spokesman.