Marillion hit Kayleigh to be set in Galashiels pavement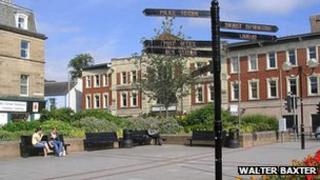 A council plans to inscribe the lyrics of a 1980s hit into the paving stones of the town which the song was set in.
Scottish Borders Council is to put extracts from Kayleigh by Marillion into the pavement at the newly-developed Market Square in Galashiels.
It also intends to replace cherry trees - mentioned in the lyrics - which have recently been removed.
Songwriter Fish said he was "proud" to hear about the tribute which he described as "really touching".
"Galashiels was where I started singing, I did my first gig there," he told the BBC Scotland news website.
One of his inspirations for the song was a time in the early 1980s when his girlfriend was studying at the town's College of Textiles.
"I came down to Gala to my girlfriend's flat and she was pushing me to become a singer, he said.
"She stayed in the halls of residence - I used to go down there and spend the night.
"The line 'dancing in stilletos in the snow' was about coming back from a college ball.
The song was written in 1985 and proved to be the biggest hit enjoyed by Fish and Marillion.
The Haddington-based songwriter said the lyrics were about the conflict between his private life and his aspirations as a musician.
"There was a girl in Gala and another one in Aylesbury," he said.
"But I couldn't commit to a relationship and a 'normal life' as I had a career to pursue."
Council engineer David Johnstone said the authority felt it was appropriate to mark the links between Galashiels and the song.
"The lyrics from the song Kayleigh included reference to the old textiles college," he said.
"Some of the lyrics referred to 'dawn escapes from moon-washed college halls' and 'do you remember cherry blossom in the market square?'
"There was a feeling that these lyrics were really appropriate and because of the connection between the singer and Galashiels that it would be appropriate to engrave some of those lyrics into the paving and make more of a feature of it."
'Fond memories'
Mr Johnstone said the original cherry trees referred to in the song had had to be removed due to disease but they would be replaced.
He added that the council had been in touch with the songwriter, originally from Dalkeith in Midlothian, who was pleased with the plans.
"We had an email from Fish, a very nice email - he was on tour at the time," he said.
"He was delighted that they lyrics were going to be engraved.
"He had very fond memories of Galashiels and was very pleased with the idea."