Galloway hillside blaze caused by 'controlled' burning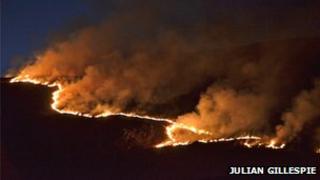 Fire investigations have concluded that a major grassland blaze in southern Scotland was started by "controlled" burning in the area.
Dozens of firefighters tackled the flames at Drumburn Hill, near Dumfries, which broke out on Monday afternoon.
About 500 hectares of heather and scrub land were destroyed before the blaze was finally put out.
Dumfries and Galloway Fire and Rescue Service has urged "extra care" with any fire being started in the open.
Dozens of firefighters were sent to the scene along with support from Forestry Commission Scotland, Scottish Woodlands and a Royal Navy helicopter based at HMS Gannet.
By 17:30 on Tuesday the fire was deemed to have been brought under control and late the following morning the incident was declared to be over.
"The cause of the fire was controlled burning," said a fire service statement.
"At this time it is critical that extra care is taken when starting a fire of any type in the open, near combustible materials.
"These dry, windy conditions are perfect for fire spread and controlled burning in any manner is difficult to control and, in some circumstances, impossible to maintain."
The fire service has also urged the public to be "extra vigilant" if planning a barbecue and to avoid starting any camp fires.
A similar grassland fire has also been put out in the Scottish Borders.
About 50 firefighters tackled the incident near St Mary's Loch after it broke out on Monday.
Crews were called from Selkirk, Galashiels, Innerleithen, Peebles, Kelso and Dalkeith along with two specialist units.