Borders and Dumfries grassland fires 'under control'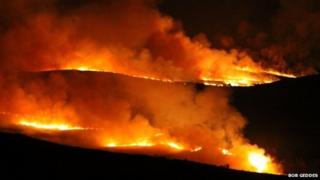 Two major grassland fires in Dumfries and Galloway and the Borders are reported to be under control.
The blazes broke out on Monday afternoon at Drumburn Hill, south of Dumfries, and near St Mary's Loch.
The two incidents saw dozens of firefighters called out before eventually being extinguished on Tuesday evening.
Due to clear conditions and its elevated position, the Dumfries blaze was visible from some distance.
A Royal Navy helicopter from HMS Gannet at Prestwick was used to move firefighters and equipment across the remote hillside.
Efforts to control the fire, which spread across a front of 1km-2km, were helped by the relatively calm conditions. Wind speed was recorded at 3-5 knots.
The area is not a populated one but due to its elevated position and clear weather conditions, the blaze was visible as far away as Workington in Cumbria.
The cause of the Dumfries and Galloway fire is not yet known.
About 50 firefighters tackled the heath fire at St Mary's Loch on Tuesday.
Crews from Selkirk, Galashiels, Innerleithen, Peebles, Kelso and Dalkeith and two specialist units were called to the scene on steep hillside.
An ambulance was also in attendance, but nobody was injured.
The fire had started late on Monday afternoon, and had been dampened down with one crew monitoring the area overnight.
However, by midday on Tuesday, more units had been called to the scene as the fire began to spread again.
Firefighters with backpacks fought the outbreak which involved grass, heather and gorse and it was finally brought under control by nightfall.
Do you have pictures - still or moving - of these incidents? Send them to the BBC Scotland news website at newsonlinescotland@bbc.co.uk
Please ensure when filming or photographing an incident that you make your safety and the safety of others a priority.
If you submit an image, you do so in accordance with theBBC's Terms and Conditions.