Borders rural crime fight stepped up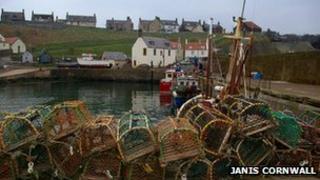 Police are stepping up efforts to tackle rural thefts and bogus workmen operating in the eastern Borders.
A campaign is under way to provide advice to homeowners, farm workers and the general community on measures to avoid being targeted by criminals.
Bike, car and home security will be among the issues raised by the initiative in east Berwickshire.
A No Cold Caller Zone is also being extended to include a number of villages in the area.
It has previously been launched in Ayton and will now cover Cockburnspath and Cove, Grantshouse, Reston and Auchencrow, Coldingham and St Abbs.
Homes of elderly and vulnerable members of the community will display signs warning against cold-callers.
The public in these areas will also be encouraged to contact police immediately if they witness any suspicious activity in or around a neighbour's property.
Police will also be working closely with Scottish Borders Council and the DVLA to carry out roadside checks on vehicles in a further bid to deter and identify bogus workmen.
Ch Insp Kenny Simpson said: "The Scottish Borders remains a safe place to live, work and visit.
"However, when crime does occur, it can have a significant impact on local communities and we are committed to providing the public with essential crime prevention advice to help protect them from would-be thieves.
"The expansion of the No Cold Caller Zones sends a clear message that communities will not tolerate any bogus callers or workmen, and will hopefully deter any such activity."
East Berwickshire councillor Michael Cook said the initiative had already been successful elsewhere and welcomed its expansion.
"At the heart of that success is good effective communication between the police and our communities," he said.
"The police can tell folk from Ayton to St Abbs and all the other villages involved, what to look out for, and what kind of crooks might be active.
"Coming back the other way, communities can give vital information to the police about cold callers, what they looked like, contact details, registration numbers and so on.
"That makes it much easier for the police to 'nab' crooks who prey off people's trust and goodwill."
'Very upsetting'
Lisa Roberts, of NFU Scotland, said the farming community also welcomed the move.
"Farmers in the area have come increasingly under target from thieves who steal, among other things, diesel, oil and ATVs, which is very worrying," she said.
"As well as the cost and huge inconvenience of having to replace these valuable items, it can be very upsetting for the victim too.
"Luckily, there are things you can do to deter criminals from your farm and this campaign should help inform all those living and working in the countryside about what they can do to look after themselves, their homes and their businesses."