Innerleithen makes super-fast broadband service switch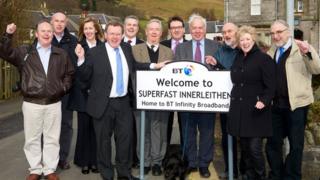 Residents of a small town in the Borders which won a competition for super-fast broadband are set to be given access to the service.
Innerleithen was one of 10 communities in the UK to triumph in BT's Race to Infinity event.
People in the town and surrounding villages are now able to order the new fibre broadband service.
James McClafferty of BT said it would put the area "at the heart of super-fast Scotland".
Innerleithen is one of the first winning locations to be able to order the service, which allows a full-length HD feature film to be downloaded in 10 minutes.
Mr McClafferty said it "thoroughly deserved" to get the network after the "tremendous response" to the competition.
"This investment opens up a host of great opportunities here in the town and surrounding villages," he said.
"It has the power to transform every aspect of people's lives - from education to entertainment - and helps make flexible working much more viable.
"As engineers complete the works in the months ahead, it will also be the first place in Scotland to experience fibre to the premises, offering ultra-fast speeds which will benefit local businesses in particular."
Brian McCrow, of Innerleithen and District Community Council, who fought to get the service, said: "It is very exciting to think that after all our campaigning the day has finally arrived.
"We have been discussing the project with BT staff over the past year and are pleased that BT has put so much investment into bringing super-fast to 96% of Innerleithen and surrounding villages of Traquair, Glen and Cardrona.
"We are looking forward to the difference this will make to our tourism and other businesses, our children's education, our ability to be in touch with friends and family in the UK and overseas and, last but not least, for people to work from home to give them more leisure time and reduce their carbon impact."
Both Dumfriesshire, Clydesdale and Tweeddale MP David Mundell and Midlothian South, Tweeddale and Lauderdale MSP Christine Grahame welcomed the news.
"Super-fast broadband will create new opportunities for everyone in the town, giving our businesses a competitive edge as well as opening new doors for people of every age and background," said Mr Mundell.
"It has the power to transform every aspect of life, including lifelong learning, healthcare and the way we all work and play."
Ms Grahame said she was pleased to see the service go live.
"Campaigners fought hard to win it and at a time when organisations around the country are looking for investment partners to bring super-fast technologies to their areas and give them a competitive edge, Innerleithen is at the forefront of Digital Britain," she said.
She said it would mean better services for businesses, young people in education and "anyone using the web for shopping, social and domestic purposes".