Loch Ken crayfish proposals suffer setback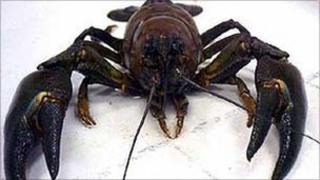 Plans to establish a crayfish fishery in southern Scotland have suffered a setback amid concerns they could spread the invasive species.
The proposed venture is earmarked for the once-thriving angling waters of Loch Ken which are now infested with North American signal crayfish.
Processing firms from Norway, Sweden and Denmark are among those who have expressed interest in the venture.
The Scottish government has concerns over the risk of spreading the species.
It said that as things stood the proposals would raise serious concerns.
A spokesman said: "The North American signal crayfish is a highly invasive non-native species which has a damaging effect on Scottish freshwater species and on the environment.
"Any application for a commercial fishery would need to be considered in the context of the risk of creating an incentive for signal crayfish to be spread to other waters.
"No licence application for a signal crayfish fishery at Loch Ken has been received by Marine Scotland.
"Until such an application is received we are unable to indicate whether a licence might be granted."
Local community councillor John Thom said they had now set up a working group and, with the help of local politicians, aimed to remove any obstacles to the scheme.
The non-native crayfish were imported to the UK in the 1970s, with escapes from fish farms or illegal releases thought to be the reason for their spread to other waterways.
First found in Scotland in 1995, they have been blamed for eating young fish and destroying habitats.
The population is now estimated to run into millions in Loch Ken and it has sparked local proposals to look at the potential business benefits.
They would see the reopening of a nearby former fishery to process and pack the crayfish.
It has been estimated that between 12 and 20 jobs could be created in the area.