TweedLove Borders biking festival grows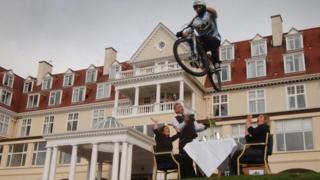 An extended programme has been unveiled for a biking festival in the Borders estimated to be worth more than £500,000 to the local economy.
The week-long TweedLove event will now run for 10 days, including the Queen's Diamond Jubilee holiday weekend.
The programme has secured financial support from Scottish Borders Council and EventScotland.
Festival director Neil Dalgleish said anyone trying to do all the events on offer would be "totally exhausted".
TweedLove is now in its third year and will run from 26 May to 5 June in the Tweed Valley in the Borders.
It includes a range of free and paid-for events both on and off road and for all ability levels.
EventScotland's Paul Bush said: "The strength of the 2012 TweedLove programme is testament to how the festival has grown over the past few years, with a number of new elements guaranteed to attract visitors.
"The children's events are particularly exciting, and will introduce a new generation of young people to the sport.
"Scotland is the perfect stage for events and the Tweed Valley is the ideal setting for the festival, providing the terrain and scenery to appeal to cyclists of all ages and abilities."
SBC's Vicky Davidson said the festival had "grown in size and stature" since the council first supported it.
"I am delighted that even more businesses are involved around the additional activities being developed to showcase the Borders as a place to cycle," she said.
"Events such as this boost our growing reputation and help us attract other cycling tourism activity that we can promote and market through cyclescottishborders.com."
Mr Dalgleish said the event had "grown massively year on year".
"Its success is definitely down to the local population who are keen to make bike tourism and the cycle industry a bigger part of our economy, together with the unique concentration of top-class biking amenities on our doorstep," he said.
"However, we wouldn't have been able to grow and develop the festival without the continued support of our public and commercial partners.
"There's nothing like this festival anywhere else in the UK, and there's nothing like some of the events we have on offer either.
"More than anything, TweedLove is about how good riding a bike makes you feel - and what better way is there to spend that precious extra time we have off for the Queen's Jubilee?".