MSP Elaine Murray calls for A75 works after baby death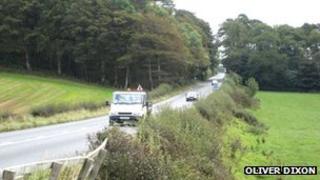 A renewed call has been made to improve a stretch of road in Dumfriesshire after an accident claimed the life of a three-week-old boy.
Labour MSP Elaine Murray is writing to the transport minister calling for funding to make the Hardgrove to Kinmount section of the A75 safer.
Oliver Hewson, of Carrutherstown, died after the crash on Wednesday.
Ms Murray said improvements in the area had been on the table for years but had been a victim of cash constraints.
She added: "That stretch between Hardgrove and Kinmount has been identified as being in need of improvement.
"In fact an improvement scheme has been drawn up and completed but the money ran out and the scheme has not actually been implemented."
Ms Murray stressed that the causes of the "terrible tragedy" in which the baby died were not known.
However, she said she hoped the improvement works could be carried out in case the road layout had been a "contributory factor".
The statutory process for theHardgrove to Kinmount projecthas already been completed, paving the way for construction works.
A Transport Scotland spokesman said: "Our sympathies are with family and friends at this time.
"As police investigations into this accident are ongoing it would be inappropriate to comment further at this time.
"However, as part of standard policy officials will meet with the police and our operating company for the south west unit to obtain more detailed information on this tragic accident."