Gretna wedding trio face deportation after UKBA operation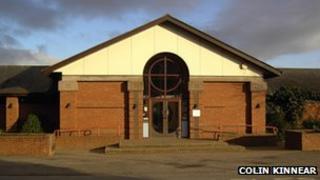 Three people are facing deportation after a UK Border Agency operation at Gretna registration office.
A man from India and two women from Mauritius are due to be removed from the country.
It follows an operation by the UKBA last week to investigate ceremonies due to take place at Scotland's "wedding capital".
A spokesman said anyone trying to evade immigration laws should expect to be found and removed from the UK.
The operation took place on 28 and 29 February in the Dumfries and Galloway town "in response to information received".
In the first case, an Indian man who was due to be married to a British woman was found to be in the UK illegally.
He is now in detention while arrangements are made to return him to India.
In the second case, a woman from Mauritius was set to marry a Polish man.
Both the woman and her daughter, who was due to act as a witness to the marriage, were discovered to be illegal immigrants.
They are also both in detention, pending their removal to Mauritius.
Phil Taylor, UKBA regional director in Scotland and Northern Ireland, said it was a warning to anyone who was in the UK illegally.
"The UKBA is working with colleagues at registration offices throughout Scotland and receives intelligence from a wide variety of sources," he said.
"We will not hesitate to act against those who mistakenly believe that they can abuse the immigration system."