Reston station case 'impresses' minister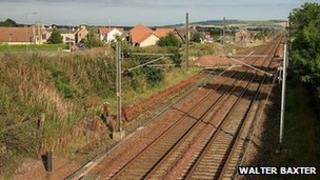 Campaigners in the fight to reopen a Borders railway station say they believe the transport minister was impressed by their case.
Keith Brown was in the Berwickshire village of Reston this week to examine the situation for himself.
He said that finances were tight but he was willing to listen to the proposals.
Barrie Forrest, of campaign group Rail Action Group, East of Scotland (Rages), said all the community councils in the area were behind the plans.
Mr Brown said the Scottish government was looking to expand the rail network where it could.
"We have to try to consider these things in the context of reducing resources," he said.
"There's a further study to be done to make sure we get the right information before we take any kind of decision.
"But at this stage let's just listen to what the case is and see if we can take things forward."
'Decent service'
Mr Forrest said he was pleased Mr Brown had come down to visit the site where the station could be reopened on the East Coast line.
"I think he was impressed by what he saw," he said.
"There used to be five stations in Berwickshire and now we have got none.
"Berwickshire is going back all the time without a decent public transport service."
He said Eyemouth in particular would benefit from the return of the station but so would all the communities within a few miles.
"Years ago when the train did run, I'm old enough to remember that, there used to be a bus come up from Coldingham to take people to Coldingham and St Abbs," he added.
"All that could be brought back again."