Sanquhar post office celebrates 300 years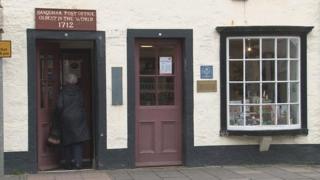 A south of Scotland post office has hit a world-beating landmark.
This year marks the 300th anniversary of what appears to be the oldest working post office on the planet - at Sanquhar in Dumfriesshire.
Its origins have been traced back to 1712 - easily beating its nearest rivals in Sweden and Chile.
The site started out as a staging post for runners moving mail about the country on foot and horseback and developed from there over the years.
Surviving outbuildings to the rear were probably stables to rest the horses.
William Dalgleish, of Sanquhar Heritage Society, said that 1712 building would seem fairly "primitive" to the modern eye.
"There were no counters as we know them today," he said.
"Mail was delivered to the window of the post office, and you actually tapped on the window, handed in your mail, paid whatever fee was due and that was the way it was done."
And before the advent of the Penny Post throughout the country, it was not cheap.
"The cost was prohibitive in many ways," said Mr Dalgleish.
He said the price of posting a letter equated to about a day's wages at the time.
"So you can understand why mail was really for the landed gentry, I suppose," he added.
No-one in Sanquhar has stronger links to the post office than retired lawyer Sandy Hogarth.
He was born there 94 years ago and his father Matthew and brother served as post masters for nearly 70 years between them.
'National treasure'
"My father started in the post office in Glasgow and then he went to South Africa to teach the natives there how to run their post offices," he said.
"He came back in about 1909 and he continued as post master until 1932 when he died.
"My eldest brother Jimmy, he took over from him, in 1932 until 1978.
"At the start of Jimmy's appointment he wasn't of age so he had to get my mother to act as guarantor until he was of age to qualify him as a post master."
Despite local pride about Sanquhar's unique claim to fame, many local people believe their post office is an asset of which not enough is made.
Those with that view include sub-postmistress Penny Murphy who took over the post office seven months ago.
"We would like to set up some kind of attraction, some kind of exhibition or display area for the people of Sanquhar and also for people passing through," she said.
"We have a national treasure here which should be, in reality, an international treasure.
"We are the oldest in the world and that is something to be extremely proud of."