Lockerbie bomber Megrahi makes appeal claims in book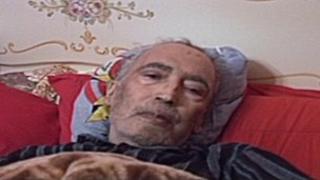 The Lockerbie bomber has claimed he was told it would be easier for him to get early release from prison if he dropped an appeal against his conviction.
Abdelbaset al-Megrahi made the claim in a new biography.
He said he was told the suggestion came in a private meeting between a Libyan official, Abdulati al-Obedi, and Justice Secretary Kenny MacAskill.
Mr MacAskill said the decision to drop the appeal was always a decision for Mr Megrahi.
The Libyan - the only man to be convicted of the 1988 atrocity - dropped his appeal against conviction in August 2009 and later the same month he was freed by Mr MacAskill on compassionate grounds due to his inoperable cancer.
In a biography just published, Megrahi claims he was told dropping the appeal would enhance his chances of gaining compassionate release.
The book states that Mr MacAskill met a delegation of Libyan officials 10 days before announcing his decision, including foreign minister Abdulati al-Obedi.
In the book, Megrahi claimed: "After the meeting, the Libyan delegation came to the prison to visit me.
"Obedi said that, towards the end of the meeting, MacAskill had asked to speak to him in private.
"Once the others had withdrawn, he stated that MacAskill gave him to understand that it would be easier to grant compassionate release if I dropped my appeal.
"He said he was not demanding that I do so, but the message seemed to me clear.
"I was legally entitled to continue the appeal, but I could not risk doing so. It meant abandoning my quest for justice."
'No deal'
Mr MacAskill said: "It was always a decision for Mr al-Megrahi whether he maintained or abandoned his appeal, the decision I made was not predicated in any case on that, but that was a matter for him and his legal team."
Megrahi's biographer John Ashton told BBC Radio Scotland's Good Morning Scotland programme he was not accusing the Scottish government of offering him a release deal.
He said: "A deal is not alleged, what is alleged is Mr MacAskill said to Mr Obedi it would be easier for us to grant compassionate release if Mr Megrahi dropped his appeal.
"It was Mr Megrahi's decision to drop the appeal and he could have could have continued with it, that would have been a risk as far as he was concerned, but it was never put on the table as an deal - you drop the appeal and we give you compassionate release."
However, Mr Ashton added that there were still serious issues for The Crown, the Scottish government and the Scottish justice system over what he calls failures to disclose information and evidence which potentially indicate a miscarriage of justice.
Express forgiveness
Meanwhile, aBBC Scotland investigationreveals new evidence about the fragment of timer found in a Roxburghshire forest which was crucial to Megrahi's conviction.
The evidence was never revealed to his lawyers and campaigners claim it could have significantly affected the verdict of the trial judges.
The programme also sees Megrahi express forgiveness for the man whose evidence was crucial in finding him guilty.
Maltese shopkeeper Tony Gauci identified him as purchasing clothes found packed around the bomb.
His evidence linked Megrahi with the explosion in which 270 people died.
Megrahi, 59, denies buying the clothes, but in the interview to be shown on BBC Scotland he said he forgave Mr Gauci.
"I'll tell him he dealt with me very wrongly," he said.
"I have never seen him in my entire life except when he came to the court.
"I find him a very simple man. But I do forgive him."