Lockerbie bombing probe formal request made to Libya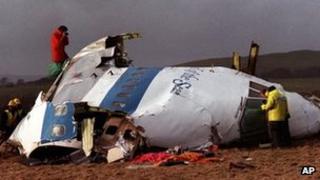 A formal request has been sent to the Libyan government seeking access to the country for police and prosecutors involved in the Lockerbie bombing case.
The Crown Office said the investigators hoped to examine information and documents relating to lines of inquiry.
The Libyan National Transitional Council has previously confirmed to the UK government that it will assist the ongoing criminal investigation.
It agreed to let Dumfries and Galloway police officers travel to Libya.
A total of 270 people were killed when Pan Am Flight 103 exploded over Lockerbie in December 1988.
Abdelbaset al-Megrahi is the only man to have been convicted of the atrocity and he was sentenced to life imprisonment in 2001.
He was released on compassionate grounds in August 2009 after he was diagnosed with terminal cancer and returned to Libya.
Scotland's top law officer the Lord Advocate, Frank Mulholland QC, and the Chief Constable of Dumfries and Galloway Constabulary, Pat Shearer, met UK families of the Lockerbie victims in London on Wednesday to update them on the development.
Scottish prosecutors and Scottish and US law enforcement representatives also attended the meeting.