Johnstons of Elgin plans £1m Hawick mills investment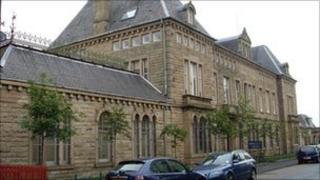 Textile company Johnstons of Elgin has unveiled plans for a £1m expansion of its Scottish Borders site.
It will see a new visitor centre, cafe and retail outlet created at Eastfield Mills in Hawick.
Director James Sugden said it would initially create 15 new jobs but also safeguard the 250 staff already working at the facility.
Building work has already started on phase one of the development, which it is hoped will open in May.
Mr Sugden said: "I see a bright future for manufacturing of luxury textiles in Scotland and I hope this investment, along with further ongoing investment in new advanced knitting machines later this year, will mark a new period of progress for us and indeed for the industry of Hawick.
"Government is beginning to take seriously the contribution we make."
He said the company wanted to emphasise Hawick's claims to be the "home of cashmere".
South of Scotland MSP Paul Wheelhouse described it as "great news for the town as a whole".
"The existing employees will be pleased their jobs have been safeguarded and the news of 15 new jobs initially will go a long way in allaying fears for the future of Hawick," he said.
Borders MP Michael Moore said the investment showed the industry had an "extremely bright future".
"Textiles firms like Johnstons of Elgin are innovating, investing and creating jobs in the Borders and this is welcome news for local people," he added.
Last year Johnstons of Elgin recorded a turnover of £50m, it employs about 750 staff between its Hawick and Elgin sites.