South of Scotland councils approve budgets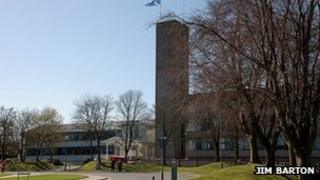 Councillors in the Scottish Borders and Dumfries and Galloway have agreed their spending plans for the financial year ahead.
Council tax levels remained frozen in both authority areas.
Plans outlined last week by the Conservative, Lib Dem and independent ruling coalition in the Borders were approved.
However, it took longer in Dumfries and Galloway for the spending plans to be agreed.
Scottish Borders Council's ruling group had already unveiled plans to deliver nearly £4m of savings.
It said there would be no compulsory redundancies but costs would be reduced through early retirement and voluntary severance as well as a range of other measures.
The administration said it was trying to ensure a "high level" of provision in the face of "on-going funding pressures".
Classroom assistants
In neighbouring Dumfries and Galloway, the ruling Conservative and Lib Dem coalition had drawn up plans which would trim more than £7m from its spending.
Opposition Labour and SNP councillors had also tabled their own individual budget proposals for the region.
The administration's budget was eventually voted through by 30 to 15 after negotiations with the other parties.
The Labour group claimed the administration had voted for cuts to the number of teachers and classroom assistants.
It also criticised the SNP for backing the Tories.
However, the Conservatives said it was a budget which put "people before politics".
The SNP pushed for amendments to the original budget and gained support for policies such as a young entrepreneur scheme and teaching languages by video in some schools.