Hawick's Wilton Lodge Park plans go on public display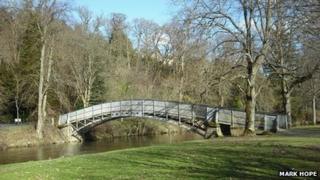 Members of the public are being asked to give their views on regeneration plans for a park in the Borders.
It is hoped the proposals can help return Hawick's Wilton Lodge Park to its "former glory".
The plans will go on display next month at an event hosted by Scottish Borders Council in the town's Heritage Hub.
The proposals include a new footbridge, an all-age play park, reinstating the bandstand, renovating the cafe and possible changes to the walled garden.
Previous studies have found Hawick residents wanted to see three key areas improved - community events, facilities and infrastructure, and information/education.
However, there were major concerns about the amount of dog fouling in the park as well as the type, quality and cleanliness of facilities.
People wanted to see the land used to stage music and sporting events, children's activities, family days and fireworks displays.
Now proposals have been drawn up which try to take these views on board.
Alan Sutherland, who chairs the Friends of Wilton Lodge Park, encouraged the public to inspect the plans.
"Whether you are a frequent, infrequent or non-user of Wilton Lodge Park your opinions are important," he said.
"Come along and let us know what you think."
The council also hopes the event can be used to compile an album of how the park used to look in the past.
They have asked anyone with old colour pictures of the area to bring them along to the public exhibition on 2 February.
Wilton Lodge Park is the largest public park in Hawick and developed from a former private estate at the end of the 19th century.