River Tweed West Indian cricket artefact set to be sold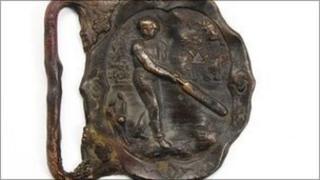 A West Indian cricket artefact discovered near the River Tweed in the Scottish Borders is expected to fetch more than £100,000 at auction.
The belt buckle was found with a metal detector by Londoner Clive Williams while he was on holiday in 1979.
Auctioneers Bonhams believe it to be the oldest known cricket artefact from outside the British Isles.
It will go under the hammer at a sporting memorabilia auction in Chester on 30 May.
With the help of the MCC, the British Museum, the Royal Botanic Gardens at Kew, the National Portrait Gallery and the Victoria and Albert Museum, Bonhams said it had been concluded that the buckle featured an Afro-European slave playing cricket in Barbados circa 1780.
It is believed to have links to the Hotham family who have centuries-old connections to the West Indies, the Royal Navy and cricket.
The Admiral Sir Alan Hotham was a cricket devotee and lived upstream from where the buckle was found.
Postage stamps
In the 1780s his ancestor, the 1st Baron Admiral William Hotham, served in the West Indies, notably Barbados, during the American War of Independence.
Author James A Michener has described the buckle as "a valued piece of social history".
The late CLR James, the historian, journalist, theorist and cricket writer, once said: "The little buckle and its fascinating story enrich cricket and must go on enriching the whole world."
Since its discovery, the buckle has featured on postage stamps, coins and trophies in the West Indies.
It will be the first time that it has appeared at auction.