Earthquake calls blamed on jet sonic boom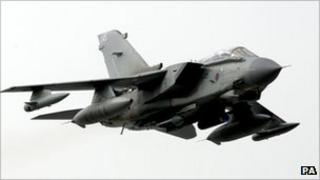 Public reports of an earthquake felt in south east Scotland and north east England have been blamed on the sonic boom from a military jet.
The British Geological Survey (BGS) was called by people as far apart as Eyemouth in the Borders and just north of Sunderland on Thursday afternoon.
It contacted the RAF which had two military jets on exercise in the area.
RAF Boulmer confirmed a single Tornado GR4 fighter aircraft had completed a pre-planned supersonic sortie.
The incident happened at about 15:15, after which the BGS started to receive reports from towns and villages spread about 70 miles (115km) apart along the east coast.
The BGS said the furthest inland reports were received from Duns, Wooler and Bedlington.
One reported that "the whole house shook violently for a couple of seconds" while another described it as a "very heavy rumble, as if an absolutely massive lorry had passed right next to me".
A sonic boom is the sound associated with the shock waves created when an object, such as an aircraft, breaks the sound barrier.