Dumfries and Galloway Council prepares solar panel plan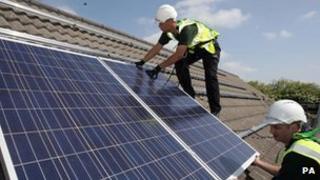 Dumfries and Galloway Council is seeking approval to borrow up to £2.2m to spend on installing solar panels on a number of its properties.
A report claims saving to electricity costs and income from generation could boost its budget by more than £6m.
The council also wants to investigate further renewable energy options which could be exploited.
Among the possibilities being explored is a small hydro-electric scheme at the Caul on the River Nith in Dumfries.
The report to the policy and resources committee warns that the council must act quickly to ensure the best return on its investment.
It says there could be further reductions in the feed-in tariff available to the authority which would reduce the payments available.
It concludes the council has a "real opportunity" to reduce carbon emissions and energy bills while securing some additional income and demonstrating "positive leadership" on the issue.
Councillors will be asked to approve the additional borrowing when they meet next week.