Bill McLaren fund backs African rugby coaching scheme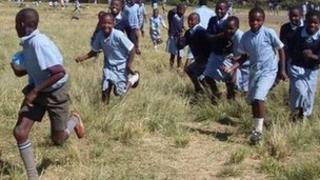 A foundation created to commemorate commentator Bill McLaren is backing a rugby coaching programme across Africa.
It will provide all terrain vehicles to transport coaches and equipment to 15 schools in 10 different countries.
The Bill McLaren Foundation (BMF) is supporting the first expedition of the Bhubesi Pride organisation which gets under way this month.
Mr McLaren's daughter Linda Lawson said she was pleased to take her father's name to places where it was unknown.
The six-month mission will visit Ethiopia, Kenya, Uganda, Rwanda, Tanzania, Malawi, Zambia, Botswana, Namibia and South Africa.
Bhubesi Pride founder Richard Bennett said he was pleased to have secured support from the group set up to remember the famous commentator from Hawick in the Scottish Borders.
"Rugby and its values - as highlighted so well through the BMF - is a brilliant way to drive social change and to change lives for the better through sports development," he said.
"Through Bhubesi Pride's project work, we can use the sport in a meaningful way, where children in Africa can enjoy playing the game, but also learn about other important issues such as health and respect of themselves and others around them."
Brian Renwick, grants director for the BMF, said it was "thrilled" to show support for rugby all over the world.
Ms Lawson added: "When we first heard about Bhubesi Pride we were immediately interested in the concept of taking rugby to African communities.
"When we met Richard we were impressed with his vision, in particular how he saw rugby as developing life skills of both boys and girls in so many countries throughout the continent.
"I personally am pleased that we're bringing rugby, and Dad's name, to places that have never heard of him before."