Sir Walter Scott's home seeks Russian tourism boost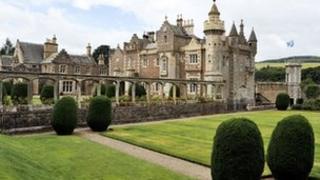 A tourism mission to exploit Sir Walter Scott's reputation in Russia is to take place later this month.
Representatives from his former home, Abbotsford House, near Melrose, will travel to Moscow and St Petersburg.
The Abbotsford Trust's chief executive, Jason Dyer, said it was a "tremendous opportunity" to attract visitors.
Work is currently under way on a major overhaul of the historic property with a new visitor centre due to open on site later this year.
Sir Walter Scott and his works have been well known in Russia since they were first published there in the 1820s.
His writing has been credited with influencing many of of the country's most important literary figures, including Tolstoy and Pushkin.
Abbotsford representatives will be part of a delegation of Scottish tourism businesses meeting travel operators from Russia, Belarus, Kazakhstan and Kyrgyzstan.
Mr Dyer said: "Sir Walter Scott's influence has extended right across the globe and today in countries like Russia, his work is probably more well-known than it is in Scotland.
"We believe there is a tremendous opportunity for Abbotsford to attract visitors from Russia, and beyond, to come and visit the place where the majority of Scott's great works were written.
"Our new visitor centre opens this summer and when combined with the newly-restored Abbotsford which opens again in 2013, we believe we will have an attraction with international appeal that will bring visitors from all over the world to the Scottish Borders."