Debenhams confirms Dumfries TJ Hughes site plans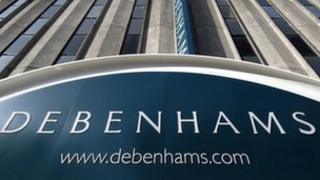 Retail chain Debenhams has confirmed it plans to move into a prominent store site in Dumfries left vacant after TJ Hughes went into administration.
The premises on the High Street has sat empty for several months.
A spokeswoman for Debenhams confirmed that it was taking over the site and would release full details of its plans in due course.
She added that the company was "looking forward" to coming to Dumfries with its new store.
Dumfries and Galloway Council confirmed a "retail interest" in the site last month.
TJ Hughes quit the premises in the summer and Dumfries and Galloway MP Russell Brown described it as a "deep, deep loss" for the town.
It cost a number of jobs and also left a key retail site, formerly run by Littlewoods, empty.
The head of Dumfries Retailers Association, Rab Smith, said at the time that the loss of the store would leave a "big gap" in the town.
Debenhams has now confirmed it intends to fill the empty property.